I just brought home my new puppy. Now what?
Bringing home a new puppy is a joyous occasion – and often a chaotic one. Beginning dog training right away can make a smoother transition for your newest family member.
Below, our Greensboro vets have shared some advice and basic training tips that you can use to get the ball rolling on training your new pet.
Decide Your "House Rules"
Before you get home with your new friend, decide what you are and are not willing to allow.
Will you let your puppy jump on the bed or other furniture?
Do you have parts of your house that are off limits?
What about a puppy chair at your dining room table?
Settle on your rules early to save time and confusion later.
Create a Puppy Space
Part of helping training is helping get your dog comfortable in your home. Set up a room, den or private sleeping space for your puppy that is not used by anyone (person or pet) else.
When you arrive home for the first time, give your new friend a warm hot water bottle and a ticking clock near the sleeping area. This will create a similar effect to the heat and heartbeat from your puppy's litter mates, teaching him or her that this is a safe and comfortable place to rest. You'll both benefit.
Training the Name
Associate your puppy's name with pleasant and fun things, not negative ones. This helps to establish the name as something your new pet will think of the same way as other fun things in his or her life, like "walk" or "cookie".
This will also help when teaching your dog to come when called. This command will establish you as the alpha in the relationship and will pay off for years to come, so it should be the first one you master.
Learn About "Dog Time"
You'll quickly notice that your puppy will do something and then forget about it two minutes later. This is "dog time" and needs to be considered during your training sessions. Being consistent in repeating your instructions will reinforce what your pet is learning.
Rewards & Positivity
Positive reinforcement is critical to turning training sessions into something your dog is looking forward to. End sessions on a positive note, and when your puppy is doing well, use treats, toys, love and praise as rewards to let him or her know the hard work is paying off.
Make sure to never reward bad behavior, as causes confusion and reduces the effectiveness of your training.
Spay or Neuter Your Puppy
Along with many other benefits, spayed or neutered dogs are often more open to training, and show signs of being less aggressive and more docile. Speak to your veterinarian about the best time to spay or neuter your new puppy.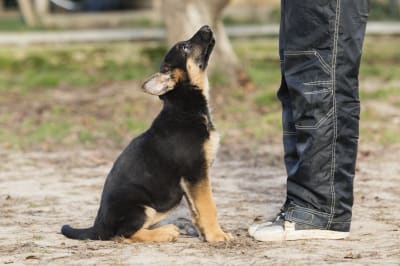 Looking for a vet in Greensboro?
We're always accepting new patients, so contact our veterinary hospital today to book your pet's first appointment.