At Friendly Animal Clinic in the Greensboro and Guilford College area, our veterinarians provide specialized geriatric care for the health and comfort of senior pets, including pain control, dietary changes, medication, and more.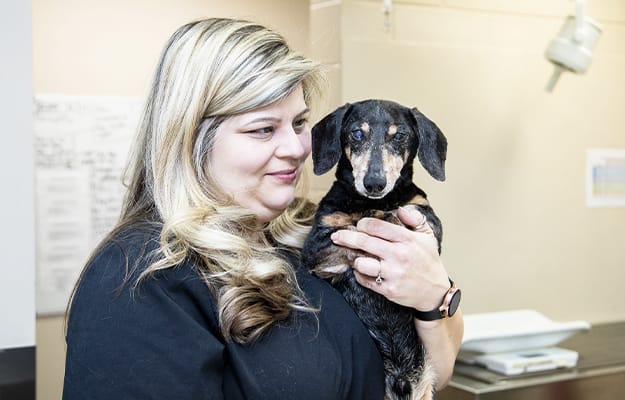 Care for Senior Cats & Dogs
Pets can become vulnerable to certain illnesses and disorders as they age, much like humans.
It's important to bring your pet for annual physical exams even if they appear healthy as this can help to prevent or offer an early diagnosis of many of these conditions, thus extending your pet's life and improving their general wellbeing.
Our veterinarians are experienced in monitoring your pet's overall health. They know what to look for and will be able to identify and treat any developing issues.
Common Health Problems In Geriatric Pets
As a result of improvements in veterinary care and dietary habits, cats and dogs today are living longer than ever before. While this is generally a good thing, pets, their owners and veterinarians are now faced with far more age-related conditions. Geriatric pets can develop many of the same problems seen in older people, such as:
Cancer
Heart disease
Kidney disease
Urinary tract disease
Blindness and hearing loss
Weakness
Liver disease
Diabetes
Joint or bone diseases
Senility
When is a pet considered to be senior?
The answer to this question depends largely on the type of animal and its size.
However, as a general rule, cats are typically considered to be geriatric between 7 to 10 years of age.
Small dogs, such as Chihuahuas, terriers, Pomeranians, and toy breeds, aren't considered senior until they are 7-10 years, similar to cats.
Larger breeds of dogs are prone to shorter lifespans and therefore reach geriatric stages around 6 years.
Veterinary Care for Geriatric Pets
It's our job as your veterinary team to monitor and diagnose your pet's health problems and develop treatment plans to alleviate any issues and keep them comfortable and happy into their golden years.
Our vets will ask questions to determine your pet's behavior at home, perform thorough examinations, and run any diagnostic testing that may provide insight into your pet's internal systems.
The results of these findings will inform any recommended changes to your pet's medications, activities, and dietary needs in order to keep your senior pet healthy.