At Friendly Animal Clinic, our advanced diagnostic veterinary technology, in-house lab, and on-site pharmacy help us provide comfortable, efficient care and same-day test results for pets in the Greensboro and Guilford College area.
In-House Laboratory
With our on-site lab, we're able to perform the following vital testing:
Complete Blood Counts (CBC)
Electrolyte Evaluation
Blood Chemistry Panels (to evaluate organ function)
Parvovirus Testing
Heartworm Detection
Fecal Exams & Intestinal Parasite Testing
Feline Leukemia & Feline Immunodeficiency Virus Testing
Request Appointment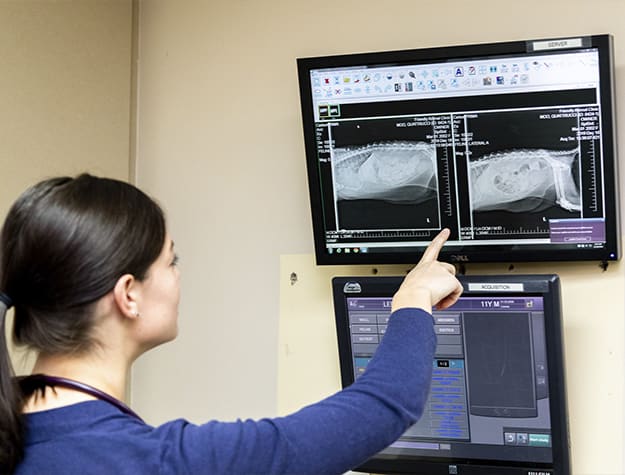 Same-Day Results
When you're worried about your pet, waiting for test results just adds to the stress. With our in-house laboratory and advanced technology, we can perform diagnostic tests and obtain results on the same day, easing your concerns and getting started with treatment sooner.
Digital X-Rays
Digital x-rays capture high-quality images of your pet's internal systems, making them immediately available on a computer system.
Traditional x-rays aren't able to provide the level of resolution and contrast of a digital x-ray. The software also provides further diagnostic value as we are able to manipulate the images as required. Digital x-ray technology also significantly reduces exposure to radiation, making it safer for your pet.
Digital x-rays allow for more accurate diagnoses and the most effective treatment.
Dental Radiography
Dental radiography technology helps our vets to safely and effectively obtain high-quality images of your pet's teeth. We can then use this information to accurately diagnose any dental concerns that may be affecting your pet.
Without dental radiography, we wouldn't be able to analyze any of the tooth structure above or below the gum line and might not be able to identify gum disease in the early stages.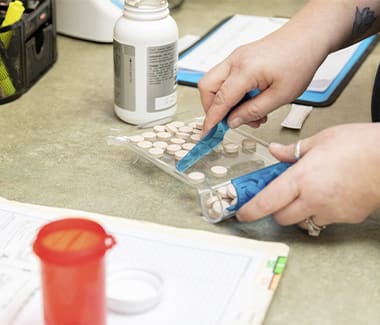 On-Site Pharmacy
Our pharmacy is conveniently located in our Greensboro office and stocked with a full array of medications, prescriptions, and dietary options. This provides quick access to what your pet needs in the same visit.
Ranging from routine medications (such as pain management and parasite control) to specialized prescriptions (such as treatment for thyroid disease), you will be able to fill your pet's prescriptions on-site at your convenience.
A fully stocked pharmacy also provides our vets with access to any medications they may need for your pet while they are in our care.