At Friendly Animal Clinic, our veterinary team considers spaying and neutering essential to the preventive health of cats and dogs in the Greensboro and Guilford College area.
Spaying and Neutering Your Pet
Spaying and neutering are the surgical sterilization of an animal under general anesthesia.
SPAYING: This procedure is technically referred to as an ovariohysterectomy, and involves removing a female cat or dog's reproductive organs.
NEUTERING: This is the removal of a male cat or dog's testicles, also known as an orchiectomy.
You may also hear the term 'fixing' to describe the desexing of either gender.
Our vets in the Greensboro and Guilford College area strongly encourage this procedure for your cat or dog. If you're considering having your pet spayed or neutered, our Greensboro vets will happily guide you through the process.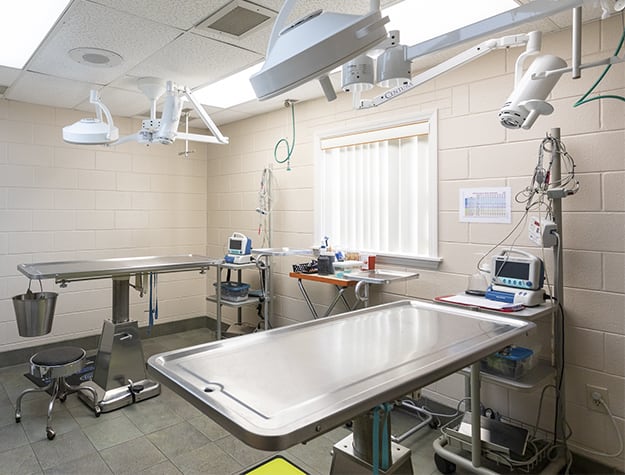 Reduce Puppy & Kitten Overpopulation
There are millions of cats and dogs abandoned or euthanized every year. As a pet owner, you can help by having your pet spayed or neutered to reduce puppy and kitten overpopulation and the instances of unwanted animals being abandoned or euthanized.
Benefits of Spaying & Neutering your Pets
Benefits for Cats
Reduces risk of female cats developing uterine infections.
Prevents unwanted behaviors such as marking territory with urine.
Reduces cats' likeliness to roam.
Can increase affectionate behavior.
Reduces risk of contracting certain diseases.
Reduces the risk of developing mammary (breast) cancer.
Benefits for Dogs
Reduces risk of female dogs developing uterine infections.
Reduces behaviors such as marking and spraying.
Stabilizes the mood of the dog (potentially calming).
Reduces the urge to mate.
Reduces sexualized behaviors.
Reduces the risk of prostate and cancer problems.