At Friendly Animal Clinic, our team of veterinary professionals will care for your pet in our Greensboro boarding facilities located in the Guilford College area with our daycare, overnight, and medical boarding services.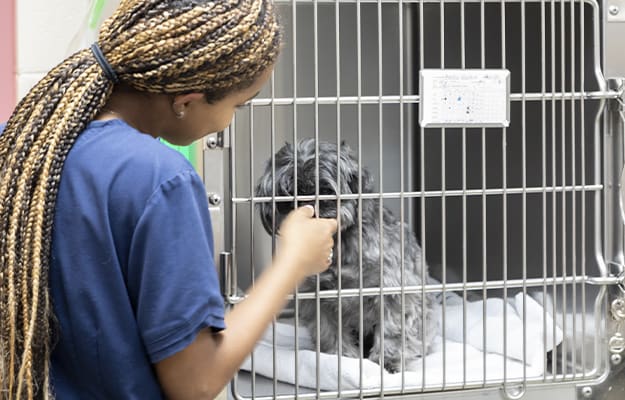 A Home Away From Home
We understand that it can be difficult when you have to leave your pet.
Our caring team at Friendly Animal Clinic is here to help ease your mind and provide a comfortable, enjoyable visit for your cat or dog while you're away.
Our boarding services provide a safe, secure, and fun environment for your pet, and with trained professionals on staff, you know they will receive the care they need.
Phenomenal - the best word I can use to describe the doctors and staff at FAC. We have used them for many, many years and they have always treated our fur babies so great. They went above and beyond when we boarded our dog and he would not eat and they were so supportive when we lost two of our babies back to back. Great team!!
Comfortable & Caring Accommodations in Greensboro
As a veterinary clinic, we are able to welcome cats and dogs in need of specialized care, medication, or diets. We will happily follow any special instructions to ensure your pet is healthy and comfortable during their stay with us.
Amenities include:
Individual space for each guest
Separate boarding area for cats
Climate-controlled kennels
Comfy beds
Blankets, bowls, and towels
Medical and diet accommodations
Vets on call 24/7 
Boarding FAQs
Read the answers to our most frequently asked questions about pet boarding at Friendly Animal Clinic in Greensboro.
Boarding Registration
Looking to board your pet with us? Fill out our short registration form to get started and we will be in touch with you to coordinate your booking at our Greensboro location.