Friendly Animal Clinic offers overnight, medical, and day boarding for cats and dogs in the Greensboro and Guilford College area. Use our Registration Form to board your pet at our veterinary clinic.
We Treat Your Pets Like Family
At Friendly Animal Clinic, we love animals and it shows!
We have everything your cat or dog will need for a relaxing and enjoyable stay with us, including climate-controlled kennels, comfy beds, and playtime with our staff.
If you have any questions about our boarding facility before booking an appointment, you can read some of our clients' frequently asked questions, or give us a call and we'd be happy to provide any information you need to feel comfortable leaving your pet in our care.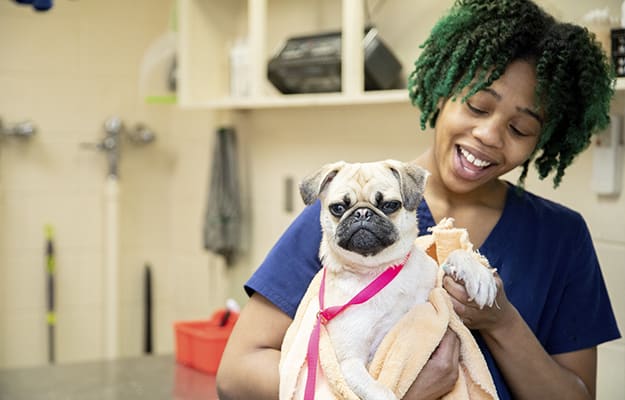 EVERYONE at Friendly Animal Clinic is always so wonderful and loving to Oscar. Best Vet Care... Always a wonderful experience. They don't push products or services, they just care about Oscar.
Preparing for your Pet's Stay
We know every pet is unique, and that's why we suggest the following steps to help meet the individual needs of your pet during their stay with us.
Step 1
Let's Get Started!
Call us to discuss your boarding needs, or fill out our Registration Form. We will reach out to you to coordinate your pet's booking, and to ensure your pet is eligible for boarding at our facility.
Step 2
Book a Trial Stay, if Possible
To be absolutely sure that we are right for your furry friend before an extended stay, it might be a good idea to try us out first! A full day trial stay can help us be sure your pet tolerates boarding well.
Step 3
Less Stress for Success
There are a few ways you can help to reduce stress for your pet on the day of their boarding appointment.
If possible, try to give your pet extra exercise and attention before dropping them off, this can help to relax them. When you're ready to leave, try to be calm and cheerful to reduce separation anxiety.
Get Started with Boarding
Interested in boarding your pet with us? Fill out the form below, and a member of our team will be in touch to coordinate your booking.
Please note that all pets boarding at our facility must have proof of up-to-date vaccinations and be free of fleas and ticks to be eligible to stay as a courtesy to all of our animal friends.