Keep your pet healthy and happy with annual examinations from your vets at Friendly Animal Clinic in Greensboro and Guilford College, NC areas.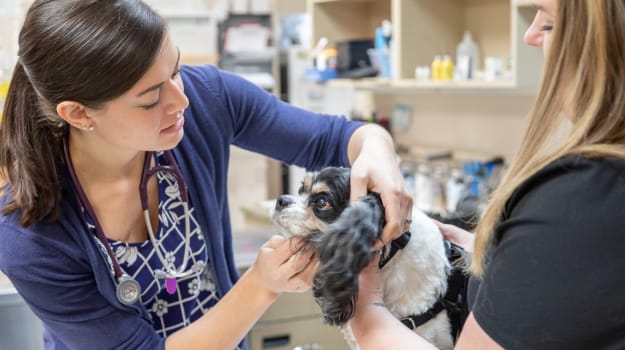 Routine Check-ups
Bringing your pet in for an exam at least once a year allows us to discover and treat any developing issues before they become serious.
Every check-up appointment at our Greensboro clinic includes a complete physical examination, routine vaccinations, and blood and urine screening.
At these appointments, we can also discuss your pet's diet and offer nutritional advice as needed.
I have entrusted Friendly Animal Clinic with the care of my beloved fur babies for many, many years. They have awesome veterinarians that genuinely care about the animals and their humans. Thank you!!!
What to Expect During an Exam
Your vet will assess your pet's physical condition to determine their overall health. This includes the following areas:
Vaccinations & Prevention
If your pet is due for any of their routine vaccinations or if they require preventive care, your vet will discuss this with you during their exam.
Age-Related Pet Care
Routine examinations will thoroughly check your pet from head to tail. But your exam may also include other elements if your pet is a puppy or kitten or in their geriatric years.
Puppies & Kittens
Puppies and kittens need extra care in the first year to be sure they are off to a good start! Around 6 weeks of age, they will need our attention.
Your new arrival will have a thorough physical examination, receive the first of their immunizations, have a test for intestinal parasites, and be given deworming medication. We will provide you with some information on the best ways to care for your new pet. We'll also give you a puppy or kitten kit that has samples and other educational material so you are well prepared to take care of your furbaby!
If you have any questions about caring for your new kitten or puppy, please be sure to ask. We'll see you for additional visits to complete the vaccination series.
Seniors
Senior pets are living longer due to medical advances, newer therapies, and better nutrition. Regular evaluations are very important for our ageing friends!